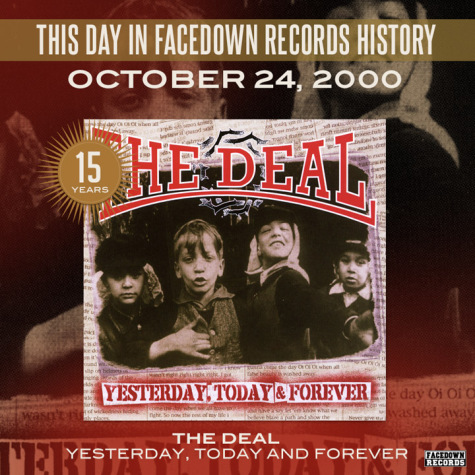 The Deal's Rick Remender takes us back to a time when old-school punk and hardcore still ruled the SoCal scene.
The Deal was still a fledgling band when we went in to record Yesterday, Today and Forever. Being backed by a label was an entirely new experience for all of us. We had just heard of Facedown Records a few months before. Tom and I had come across a CD vendor at Knott's Berry Farm on New Year's Eve 1999
where he bought the first Dodgin' Bullets EP and I bought the first Facedown Sampler. Here we were a rookie punk rock band that barely knew how to play our instruments recording for this heavy hardcore label that we had just been introduced to. 3 of the 5 members, including me, had never been in a band before and it was the first time in a professional recording studio for most of us. The whole experience was definitely surreal.
Tom and I wrote most of the music for that EP and quite a bit of the lyrics, too. Even though I was the drummer I was the senior guitar player in the band, so I wrote most of the guitar parts. I was only on drums because we didn't know any drummers. I had a cheap drum set and we didn't need 3 guitarists so I ended up behind the kit.  When I listen to that record now it amazes me the type of things I tried because I didn't know any better. My lack of experience showed especially in the way I approached dynamics. I'm surprised it worked as well as it did. There's no way I could recreate the way I played back then, and as time went by there were even some songs we had to stop playing live because they just didn't sound right when we became more polished.
The scene at the time was so interesting and we loved being part of it. Emo, screamo and metalcore hadn't taken over yet. Things were less fashion driven and bands didn't have delusions of grandeur. Old school punk rock and straight-ahead hardcore were still viable platforms with solid followings. Bands like Sick of It All and Agnostic Front weren't just legends, they were headlining big shows with both hardcore and punk bands on the bill. The Anti-Heros were still around and there were lots of great newer street punk bands as well. There were lots of opportunities. It was a really exciting time.