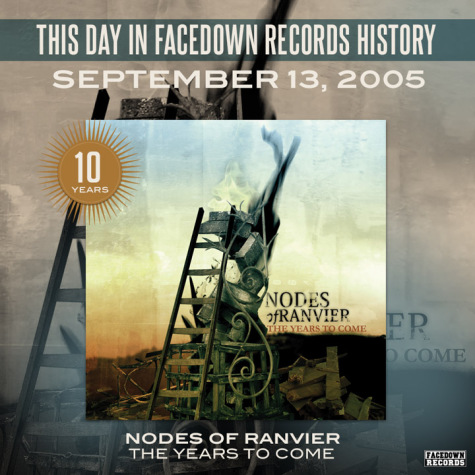 A decade ago today celebrated metal core band Nodes of Ranvier released The Years To Come, their third album with Facedown Records. Jon Parker and Ryan Knutson reminisced with us about the "Glass Half Nothing" days.
Listen on Spotify.
Buy on iTunes.
Jon Parker: The amount of time we got to spend in the studio for The Years To Come was awesome, and though fears of overproduction were voiced by some not directly involved in our process, we never lost focus or momentum. Ryan and I got the opportunity to work with 3 new musicians
/friends; Jake Stefek, Nick Murphy, and Terry Taylor. We had a lot of motivation to write and we spent a whole lot of time formulating the material.
Ryan Knutson: This album was unique and different in a universe of "the next heaviest breakdown" and  "the fastest double kick" albums that the genre was putting out. It was for sure the only metal core album of its time with a power ballad!
JP: One of the most fun tools we used on the album was a "lipstick pickup" Danelectro baritone guitar that we put bass strings on to give us some sonic authority. We had a lot of fun dialing that in and deciding where to utilize its massive fallout. We also found a way to mimic the snare sound from The Black Album but we're not at liberty to explain how. Let's just say, we didn't use Napster so we think Lars would be cool with it.
RK: We always tried to write good songs, not just good parts.
JP: Having the means to record pre-production and hash out the songs from a completely different vantage than we'd ever been able to before helped immensely.
The release of TYTC also saw a mile marker for NOR. We filmed 2 music videos, one for "Glass Half Nothing" and one for "The Dawning Age" that were produced by Nick Simon (IMDB this guy!) and landed some airtime on Headbanger's Ball. It's amazing to think that it's been 10 years already since The Years to Come hit the shelves. It very likely would have never happened without all the love and support from the FACEDOWN Family and our awesome fans.
Editor's note: Ryan and Jon never put down the guitars and are still writing and recording together. Check out their new album March In Arms on Bandcamp.