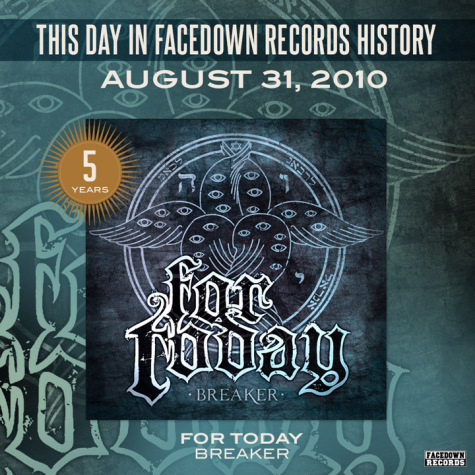 Breaker was For Today's third album for Facedown Records and catapulted them to the top of their genre. Today we celebrate five years of Breaker by talking to Ryan Leitru about the message and the motivation behind the album.
Listen on Spotify.
Buy on iTunes.
I can't believe it's already been five years! Man time flies. The "Breaker" record was a real turning point for For Today, we kind of figured out what we wanted to do as a band musically and zeroed in on it. It was at the time a culmination of us touring heavily and discovering what translated live and what people connected with. It was also the start of us working with producer Will Putney. He really helped us fix some areas in the song writing department that were weak in the past. It was such a great experience that we haven't recorded anywhere else since. 
One thing about the record that makes it a bit unique was the poetry that was scattered throughout the album. We met Jose Palos in LA months before we were in the studio, had heard him do his thing and knew we wanted to have him write a poem that followed the theme of our record. He sent us a long un cut recording of it and we had to figure out how to make it work haha. We had to write all the music that went behind it and help set the mood and tone, while making sure that it fit in the track listing appropriately. It was a challenge but I think it turned out to be a thing that made this record special and a bit different. His heart for the gospel and his story really exemplified the message we wanted to communicate through the album, that we are met in our brokenness, set free/changed by the gospel, and used to bring the freeing message of grace to other broken people. It's beautiful and our heart as a band 5 years later is the same, to see broken people introduced to a savior who loves them.
"Breaker" seemed to be something that established the For Today sound. It was one of the times where things just seemed to come together. While I know we all have grown and changed a lot in the 5 years since its release, it's great to look back and listen to this record and think back to all the things we were blessed to do, the people we have met, the friends we made, even the hard lessons we have learned growing up. That record will always hold a special place in our hearts and we are so thankful to have been working with Facedown Records to make it a reality. They believed in us when no one else did and we are forever thankful to them. – Ryan Leitru