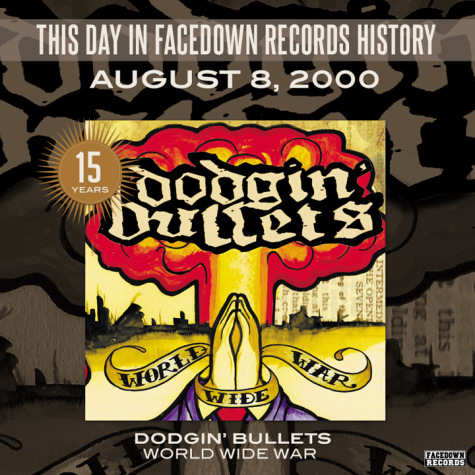 We spoke with west coast hardcore sensation Dodgin' Bullets members Dan Quiggle and Neil Hartman about the 15 year anniversary of World Wide War.
Dan Quiggle: Dodgin' Bullets was born out of friendship. We all loved hanging out and it gave us a great excuse to get together more often and do what we loved which was write music, get into the studio to record it, and then play it live.
Neil Hartman: Dodgin' Bullets was something that gave me and Dan a chance to leave PA and come to Cali to write music with friends. It was a good time every time and
something we all looked forward to.
DQ: When we went to record our second album World Wide War we were riding high on how well the first EP had done. Soundtrack To the End of the World came out better than we ever could have imagined. It was definitely something that we put together without much effort and everything just seemed to come together seamlessly. Neil and I never really worked creatively with any of the NIV guys or Tommy [Engler] before. We had no idea that when we started working together it was going to run so smoothly and create a new blended sound that we definitely loved. Tommy and myself wrote all the lyrics and we were right on with each other when it came to themes and concepts—he is a very creative guy.
In putting together World Wide War Neil worked directly with NIV guys Jason [Dunn], Tim [Mason] and Kyle [Fisher] to write the music.
NH: I remember hanging out in a California parking lot with a bunch of friends and Kyle just started humming a riff. Just like that a song was born, ha!
DQ: We ended up writing most of the songs in the studio with Joey Marciano [Redlands-based engineer]. We were fortunate enough to have a bunch of friends there to support us, not only in the writing but recording of World Wide War. Our friends from Redlands were there to support us and to lend us their strength in gang vocals, and two of our great friends from Chicago were there as well. What was a real thrill for all of us was when Roger Miret from Agnostic Front was able to come into the studio and record with us. With help from Jason and our friends from Chicago we were able to reel him in and borrow him for about an hour so he could lay down some killer vocals for the EP.
During the same time that we were in the studio for World Wide War we were also playing local shows in the Southern California area. These were some of the best shows I have ever played. The hardcore scene was just so crazy back then; everybody was there to have fun and to celebrate the things we all had in common. There were no tough guys to deal with, no cool guys to impress—everybody was on equal footing. At each show you could feel that everybody was there together in friendship to have fun, to look out for each other, and to make it the best show ever.
Dodgin' Bullets has always been about our friendship with each other. It has always been about the ties that bind us. It has always been about our relationship with each other and our relationship with the Lord and how we were all connected through love.