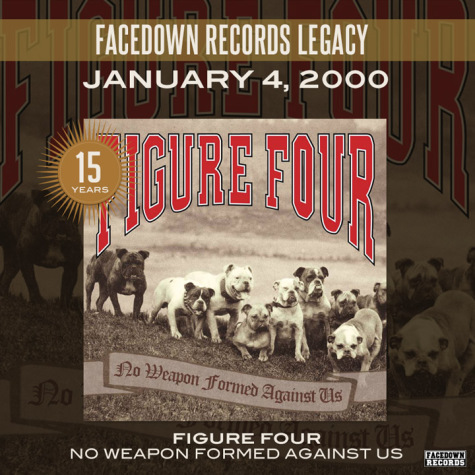 2015 marks the 15th anniversary of the release of Figure Four "No Weapon Formed Against Us." Andrew Neufeld remembers life before Pro Tools and Comeback Kid in this installment of the Facedown Legacy series.
Andrew Neufeld: Writing and recording No Weapon Formed Against Us was a very exciting time for us. We were fresh and ready to take on the world. Figure Four had just played a show with No Innocent Victim in Winnipeg a few months earlier. After the show we went out for food with Jason Dunn during which he offered to sign us to Facedown. This was the beginning.
Jason Dunn: I remember meeting the Figure Four guys in 1999 when we played that show with them. I had heard their demo at that point and I remember it being okay, but their live show stood out to me. Andrew's voice had really developed since they recorded that demo. I was very excited to hear a young band with their kind of sound, and I was eager to get them on Facedown.
AN: I was straight out of high school working at a call centre and I remember writing most of the lyrics from my cubicle desk. Since digital recording like Pro Tools wasn't widely available yet we recorded onto a DAT machine. No Weapon was the first full length album that I was a part of, the first album I toured behind as well.
JD: After No Weapon came out, the band toured in the Spring of 2000 on the "Spring Mosh Madness" tour with Point Of Recognition which was booked around the first ever Facedown Fest. That summer Figure Four went on tour with Overcome and then with xDisciplex AD. I was booking all of the tours myself back then, and that was an exciting time for me and for those guys.
AN: Facedown putting out No Weapon 100% gave me my start and the opportunity to leave my city.
JD: It was very new for all of us!  It's great to see these guys still active today in Comeback Kid and the Cancer Bats.
Listen to "No Weapon Formed Against Us" on Spotify.
Buy for $4.99 on iTunes.