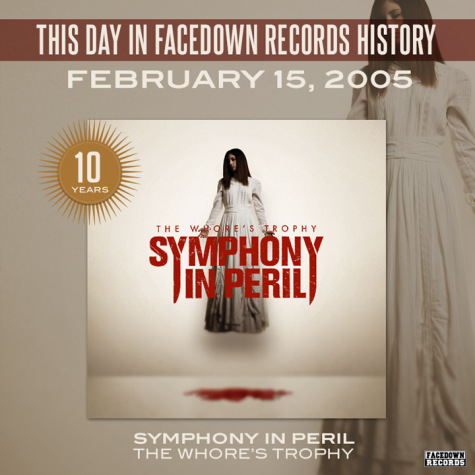 **We're kicking off this new feature with the 10-year anniversary of Symphony In Peril's album "The Whore's Trophy."
Symphony In Peril drummer Collin Simula and vocalist Shawn Jonas look back on "The Whore's Trophy."
Collin: As Shawn was writing lyrics, the theme that was rising to the top was this idea of deception and how it manifests itself in different aspects of life, spiritual, emotional, relational. The idea culminated with the story of the Whore of Babylon in the book of Revelation—which inspired the striking and unsettling title, The Whore's Trophy.
Shawn: The Whores Trophy was quite the controversial title. I remember we were looking for a title and coming up empty until Josh found that phrase in my journal/lyric book. We all kind of laughed at first but then we realized that we did kind of like it. I remember calling Jason at Facedown Records once and he mentioned that Christian book stores refused to put it on their shelves because of the title, even though it was taken straight out of the book of Revelation.
Looking back on this album I can definitely see we were all in a place of searching. From the opening lyric "quiet this night and open these eyes," to Josh's lyrics "I lost my faith in the fire," to lyrics written about Collin's experience with an abusive relative ("Inherent Scars"), the songs speak of what we were searching for individually as band. This album represented our lives, our hearts, our pain, our art, our scars, and our journey.
Collin: The impact of "The Whore's Trophy" has lasted far longer than we could have imagined, influencing many metalcore bands to come, not to mention the final breakdown in 'Stiletto' going viral on YouTube as the soundtrack to the immensely popular and hilarious 'Drive-by Hardcore Dancing.'
Shawn: I get messages from people about the impact the songs had on their lives and with their relationship with Jesus. I am honored to have made this album with such amazing guys. Andy, Josh, Capps, and Collin are my friends for life.
Hear "The Whore's Trophy" on Spotify.