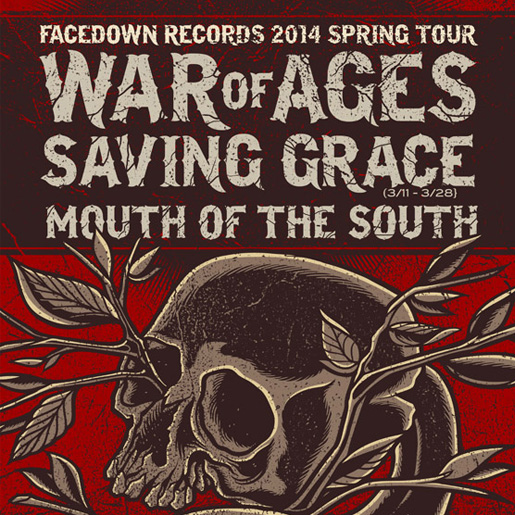 War of Ages will be burning up the road to Facedown Fest with Saving Grace and special guest Mouth of the South this spring!
War of Ages vocalist Leroy Hamp says the band is anxious to get on the road. "This March WOA headliner marks our first FULL US tour of 2014. We are very excited to share the stage with New Zealand's Saving Grace and Facedown Records' new blood Mouth of The South! BRING YOUR BATTLE AXE!" 
Saving Grace guitarist Vasely Sapunov says they are excited to be touring state-side again this summer. "We are super stoked to be coming back to the United States to support what is by far our heaviest and best record yet. This will be our fourth time in North America and our third time at Facedown Fest, when we flew out in 2013 to do the final touring cycle for 'The King is Coming' it was every evident that we had gained a whole lot more fans and friends in the US, so it's an honor to be able to come back and to continue to build on that, especially alongside War of Ages, a Facedown band with such a great legacy and awesome history! We can't wait for everyone to hear 'The Urgency' live. Let's rage!"
See tour schedule. More dates TBA.