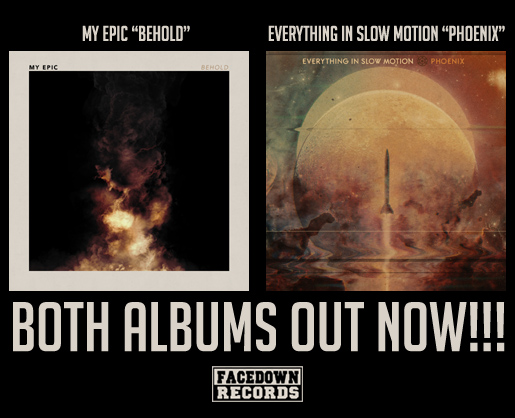 The brand new albums from My Epic and Everything In Slow Motion are officially out now. It's been a long time coming for both of these albums, but we think you will find them to be worth the wait! If you're looking for a physical CD version, head out to your local Hastings store, or one of our favorite indie stores like Gray Whale, Angelos, Bull Moose, Dimple, Independent Records, Newbury Comics, Silver Platters, Exclusive, or Zia Records. If you don't live near any of those stores, then you can order them in our online store for just $7.99 each, or you can always get physical copies on Amazon.
As always, both albums are available on all digital outlets so make sure to check them out on MP3 format at these links:
My Epic "Behold" – iTunes / Amazon MP3
Everything In Slow Motion "Phoenix" – iTunes / Amazon MP3
* And just a reminder that the vinyl version for both of these albums will be out in late January, so if you pre-ordered them, expect them then. We're sorry for the delay, but the vinyl pressing plants are all very slow with the high demand of vinyl manufacturing happening right now. You should have received a digital download in your email by now.