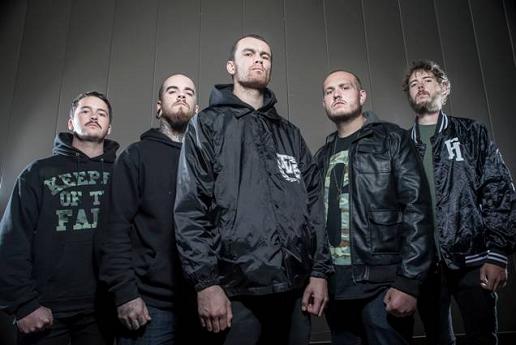 New Zealand's Saving Grace have entered Parachute Studios in Auckland City with Zack Ohren (All Shall Perish, Carnifex, The Ghost Inside, First Blood) to track their fourth studio album.
Having signed with US based Crimson Management (Vanna, Shadows Fall, Job For A Cowboy) immediately after their third North American tour and appearances at 2013's Facedown Fest and 15th annual New England Metal & Hardcore Festival, the band returned to their homeland in May to begin work on brand new material for a follow up to 2011's 'The King is Coming'.
Lead guitarist and co-founder Vasely Sapunov states:
"We are psyched for the opportunity to have Zack work on this new record with us and we are grateful to our label for flying him out to New Zealand from San Francisco.
We are huge fans of his work and are excited to have him help take our sound to the next level.
We realise that almost every single band says this with every new release (ourselves included) but this will easily be our sickest record yet.
With each new album we only ever have one goal and that is to create music which is harder, heavier, darker and more aurally disgusting than the previous and this is by far the darkest and most pissed-off record we have ever created.
You will never hear anything like clean singing, trendy down-tuned guitars or a more commercially friendly approach from Saving Grace and that is a promise. We will continue to push the boundaries of how we define 'heavy' and that's by crafting the most aggressive music that we are capable of and filling it with sincere, passionate and truthful lyrics.
On this record you can expect to hear the classic sound of Saving Grace, but taken to the absolute extreme with all of our early musical influences dissected to create the ultimate blend of metallic hardcore.
We wear our combined influences proudly on our sleeve from classics like Slayer, Reprisal, Earth Crisis, Pantera and Arkangel to bands like Martyr AD and Slipknot all the way through to death metal acts that we grew up listening to like Morbid Angel, Immolation and Decapitated."
Saving Grace were recently listed in the first announcement of headliners for New Zealand's massive annual summer fest Parachute Festival alongside the likes of MxPx and The Devil Wears Prada.
Further details including the record's title, cover art, global release date and further tour dates are scheduled to surface by early December. Check out these behind-the-scenes photos of the band's studio progress.