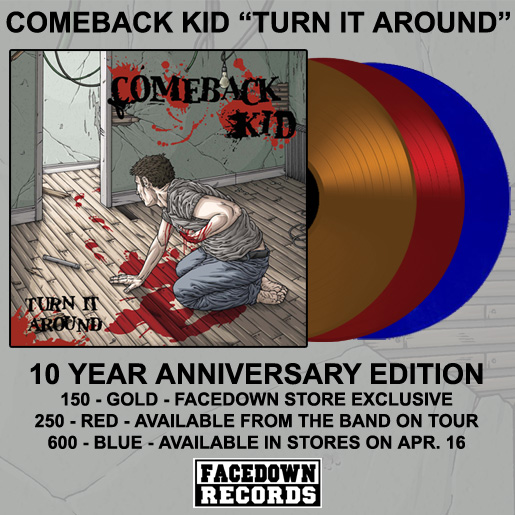 It's been 10 years since we released Comeback Kid "Turn It Around" back in March of 2003. To celebrate we are putting out a special 10 year anniversary edition on vinyl featuring new cover artwork by Mike Bukowski. Here's the breakdown on the colors that will be available:
150 – Gold vinyl – available exclusively through the Facedown store
250 – Red vinyl – available from the band on their 10 year anniversary tour
600 – Blue vinyl – available in stores on April 16
Get your pre-orders in now for the gold vinyl as we expect these to sell out very fast!
The band will be playing shows in Europe and the US with Scott Wade back on vocals, read the full press release here:

Official Press Release:
This Spring 2013, Canada's Comeback Kid will embark on a string of dates in Europe, USA, and Canada between April and June. Their original vocalist Scott Wade will rejoin the band on vocals for select dates, while current vocalist Andrew Neufeld will be back in his initial position with the band, playing guitar.
Here is a statement from current guitarist Jeremy Hiebert:
"Can't believe it's already been 10 years since we released Turn It Around, but as we all know, time flies. We thought it'd be cool to commemorate it with a few things, one of them being bringing Scott Wade back on vocals for some dates. We'll do a few shows and festivals playing songs off of Turn It Around as well as Wake The Dead in April, May and June. Not a lineup change, just a little living in the past as a thank you to those who've been with us since day one."
Here is the first string of dates. *** Stay tuned for more shows to be announced in the near future.
22.04.13 UK, London @ Underworld w/ Backtrack, Final Prayer
23.04.13 France, Paris @ Le Petit Bain w/ Backtrack, Final Prayer
26.04.13 Germany, Stuttgart @ Pirate Satellite Festival
27.04.13 Belgium, Meerhout @ Groezrock Festival
29.04.13 Hungary, Budapest @ Dürer Kert w/ Backtrack, Final Prayer
30.04.13 Sweden, Stockholm @ Kulturhuset Firestorm Festival
01.05.13 Badalona, Spain @ Estraperlo Club
04.05.13 Lisbon, Portugal @ Republica Da Musica