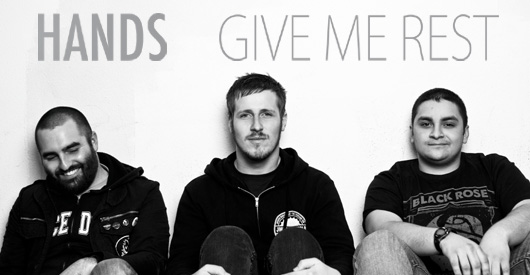 Hands is set to release their sophomore Facedown release "Give Me Rest" on July 5th. This new album promises to be a remarkable leap in song writing and profundity for the band. Check out a brand new song titled "I Will" now on the bands Facebook page.
Vocalist and guitarist Shane Ochsner had some things to say about what it was like writing and recording this time around:
"This is the first album we've done that has allowed some time for detail. I've used 5 different drum kits, 5 different guitar amps, 8 different guitars, and several different miscellaneous instruments to cater to each individual song. There is so much emotion, and weight to this album. It has been over 2 years since the writing sessions for "Creator", and so much has changed since then.
It wasn't until this last year that I have started to question everything that I believe. I woke up one day and realized that I had no idea who God truly was, why I believed in him, and if my "relationship" with him was as honest as I'd been preaching it was. It felt like everything around me was pushing me farther, and farther away from Christianity. I saw a YouTube video of a massive group of kids at Cornerstone surrounding a protester outside of the festival gates, and shouting prayers and arguments with this guy like it was the last thing they would ever do on Earth. I was absolutely disgusted, and asked myself "Am I really a part of this?"
"Give Me Rest" is about my struggle with my faith, and my struggle to call myself a true believer. It's about starting over, and actually seeking God with all of your heart. Taking your roots and planting them at the foot of the cross. Understanding that His vision is so much bigger than anything our tiny little minds could ever understand."