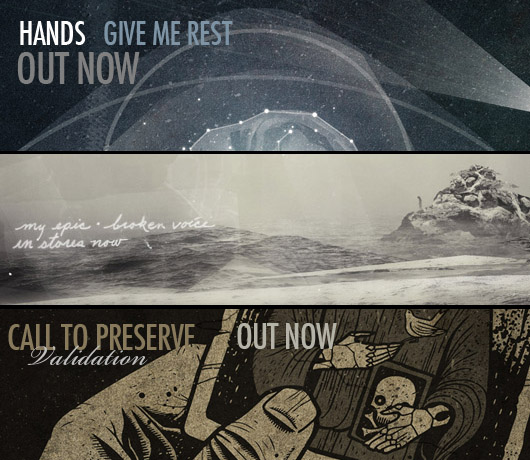 We have three new releases out today. Read below to find out the best way to pick them up:
HANDS "Give Me Rest" – The third and finest Hands full length yet. Many have already predicted this will be one of the best albums of 2011. Don't miss out on it! Pick up a physical CD copy @ Hot Topic, Hastings, FYE (select stores), your local indie record store, or the Facedown online store. Or pick it up digitally on
. We also have limited edition double vinyl still available. These are not available in most stores, so the best place to pick one up is in our online store.
MY EPIC "Broken Voice" – The 8 track acoustic based My Epic EP is out now! Pick up a physical copy at Hastings, or in the Facedown store. You can also get it on
.
CALL TO PRESERVE "Validation" 7" – The final 4 songs from Call To Preserve, available only on vinyl or digitally. Pick up the vinyl (2 colors available) in our online store, or digitally on
.