JOIN US IN MAKING A DIFFERENCE AND BUYING A VAN FOR ACTION MINISTRY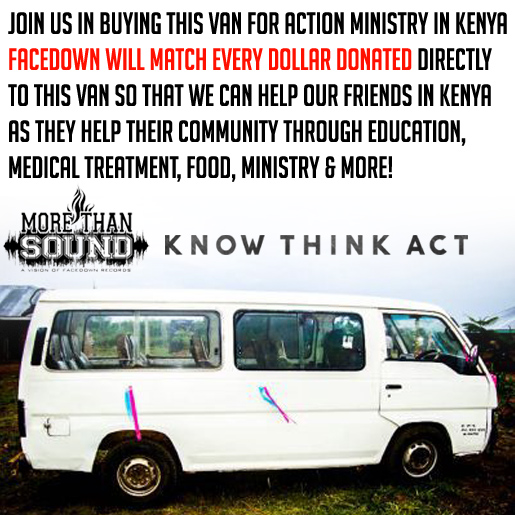 It's easy for us in the western world to take transportation for granted. Most of the world is not able to jump in their own car, or have reliable and efficient public transportation. Our friends at Action Ministry in Kenya are in need of a van, and we want to make this a reality for them . Action Ministry was founded in 2004 by Peter Ochiel with the mission of reaching people with the Gospel of Jesus Christ by reaching out to orphans, widows, street families, destitute families, and people living in the slums.
Right now, through our More Than Sound program, Facedown Records will match every donation given directly for this van purchase. All donations go directly through Know Think Act and 100% of the money you give will be sent through to buy this van. They do not take out anything for overhead, salaries, advertising, etc… Please join us in making a difference. We have already kicked this off with a $4,600 donation to get it going and will match every dollar you give going forward.