Recent Release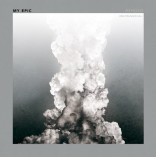 My Epic
"Behold (Instrumental)" (Digital Only)
Older Releases
About My Epic
My Epic is excited to announce the release of the instrumental version of "Behold", the band's fourth studio album. This beautiful instrumental album is a look at the magnitude & brevity of the world G-d holds together. The instrumental version of "Behold" is currently available in digital download format from iTunes and Amazon MP3.
About "Behold":
After stripping down their sound for the unplugged Broken Voice acoustic EP, My Epic bring back their signature balance of post-hardcore and indie rock for the new album, Behold. This time around, however, their sound is tempered with a sweeping ambience that's relatively new to their albums.
My Epic has transitioned into a four piece, welcoming back original members Jeremiah Austin and Jesse Stone, who join Aaron Stone and Tanner Morita for this their third full length album. Known for their heartfelt and passionate lyrics as well as their polarized, sometimes dreamy, sometimes crushing song writing, Behold fits perfectly into My Epic's discography.
Behold was produced by Matt Goldman (Underoath, Anberlin, The Chariot) who also worked with the band on their sophomore album. Behold is the band's third full length following their debut I Am Undone (2008) and the stunning follow-up Yet (2010).