Recent Release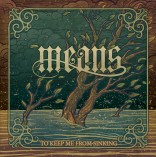 Means
"To Keep Me From Sinking" (CD)
Older Releases
Means "
sending you strength
" (CD)
About Means
This four piece band plays songs about life experienced together. Coming together from their hometowns of Dauphin MB, , Carlyle SK, Yorkton SK and Lloydminster AB, they now make Regina their home base.
This band is intentional in playing music that will encourage others and serve as a source of strength – not only for the members but for all those who listen. An intense live performance and a light hearted attitude is what you can expect from these guys. After releasing their acclaimed EP entitled 'More Than Watchmen For The Morning' and their debut full lentgh, "Sending You Strength", the band's sophomore release, "To Keep Me From Sinking" hits shelves on May 27th, 2008 in the US (Facedown Records) and June 3rd, 2008 in Canada (Underground Operations).
Photo: final show.best of times. www.jessbaumung.com
RINGTONES