Recent Release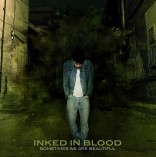 Inked in Blood
"Sometimes We Are Beautiful" (CD)
Older Releases
Inked in Blood "
lay waste the poets
" (CD)
About Inked in Blood
Inked In Blood's motto should be 'never say die'. They have emerged from their trials as one of the most innovative and multi-faceted bands on the market. They have been up against such daunting circumstances that would cause most bands to run home with their tails between their legs.
A seemingly endless string of member changes after the release of "Lay Waste the Poets" in 2005 marked a period of desperate uncertainty and eleventh-hour resolve. Founding members Joey Trump and Matt McDonnell (vocalist and guitarist respectively) were determined that Inked In Blood should live out its intended life span and were by no means ready to close the book on the promise of how far their talent and tenacity could carry them.
But every cloud has a silver lining and even in the midst of the difficulties, the band continued to prosper. The video for "Poets" song "Lest I Sleep the Sleep of Death" was hand picked by Mtv's Headbangers' Ball, and the band continued extensive touring, (complete with live acrobatics and stage antics) to anticipatory crowds. After touring with the new members proved exceedingly successful, Inked In Blood secluded themselves within the confines of the Spectre Studios compound to work with Troy Glessner and Zach Varnell on the new album.
The result is "Sometimes We Are Beautiful" a record that is at once heavier and more melodic than any of their previous works. Says Trump of the new album "We were really inspired by Further Seems Forever for much of the songwriting on this record." The hooks are founded on addictive melodies and singable choruses; in fact, the entire album is rooted firmly in the tradition of progressive ideals. According to Trump "from the sound of "Sometimes We Are Beautiful" we are entering the next level of what is and can be possible in the realm of heavier music."
RINGTONES