Recent Release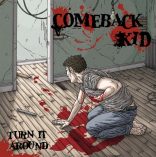 Comeback Kid
"Turn it Around" (10 Year Anniversary LP)
SOLD OUT
Older Releases
Comeback Kid "
turn it around
" (CD/LP)
About Comeback Kid
To celebrate the 10 year anniversary of Comeback Kid's "Turn It Around", we are happy to release a limited LP version of the album with new artwork by Michael Bukowski.  The following colors are being made and will be released on April 16, 2013:
150 – Gold – Facedown Online store exclusive
250 – Red – Available from the band on tour
600 – Blue – available in stores
Bio:
In 2002, what started as a side project from Andrew Neufeld and Jeremy Hiebert's band Figure Four, became what AMP magazine called "a wildly successful scene institution." Two critically acclaimed albums later and after tirelessly touring in the UK, Europe, Canada, USA, Japan, Australia, New Zealand, and Iceland with bands such as Rise Against, Sick Of It All, Madball, Bad Religion, Dropkick Murphys, Gorilla Biscuits, Terror, and Bane, Comeback Kid have become one of the biggest names in hardcore today.
In 2003 Winnipeg, Manitoba's Comeback Kid put together a self-released six-song demo and signed to California hardcore label Face Down Records, who released Comeback Kid's debut album, Turn It Around, that spring. For their 2005 album Wake the Dead, they signed to Victory Records internationally, and to Smallman Records in Canada. Wake the Dead has now sold over 100,000 copies and was voted Alternative Press's 100 bands to know in 2005, Chart Magazine's top 100 albums of 2005, favorite CD in Uptown Magazine, and nominated for Best Hardcore Group at the Indie Awards at Canadian Music Week, and also for the CBC Galaxie Rising Star Award.
In 2006, lead singer Scott Wade left the band to pursue other interests and guitarist Andrew Neufeld took over lead vocals. The current tour line-up features Andrew Neufeld (vocals), Jeremy Hiebert (guitar), Kyle Profeta (drums), Matthew Keil (bass), and Casey Hjelmberg (guitar).
On February 20, 2007, Comeback Kid released Broadcasting (Victory / Smallman), their most diverse album yet. Recorded again with Bill Stevenson (All, Descendents) at The Blasting Room, the album encompasses both heavier and more melodic elements. As lead singer Andrew Neufeld explains, "We wanted to up the ante with this one. I think it's great to explore new things and push the envelope a bit."
Broadcasting is a superbly crafted, hard-hitting tour de force. Described by Neufeld, "This is the darkest record we have ever written. We were going for a more epic, full sounding album. It has the classic CBK elements but everything is turned up a notch."