Recent Release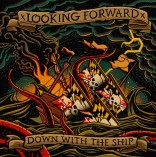 xLooking Forwardx
"Down with the ship" (CDep / 7")
Older Releases
xLooking Forwardx "
the path we tread
" (CD)
About xLooking Forwardx
xLooking Forwardx is a positive sXe band from Bel Air, Maryland playing their special blend of old-school hardcore, metal, and punk. They've been together since September of 1999, but have been friends for most of their lives. Their music focuses on the value of friendships, faith, scene stuff, and everyday life issues. They have fun doing what they do, and they do it for the glory of Jesus Christ.
"What This Means to Me", their second album, was re-released in March 2007 with a bonus dvd, and in November 2005 Facedown Records released "The Path We Tread". In 2012 they released an EP "Down With the Ship", which was released as a limited edition digi pack and 7″. This is hardcore at its finest!