Recent Release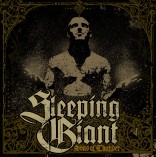 Sleeping Giant
"Sons of Thunder" (CD)
Older Releases
Sleeping Giant "
dread champions of the last days
" (CD)
About Sleeping Giant
Sleeping Giant charged onto the Southern California scene in 2006 with their bold and powerful live show, where in addition to being entranced by  ominous guitars, crowds are met with burning passion from articulate front man Thom Green.  The sincerity behind the words that pour out from Green's mouth is deeply rooted in the band's unwavering love for their fellow man.
Since the release of their debut album "Dread Champions of the Last Days" in May of 2007 Sleeping Giant went on to headline the 1st annual Scream The Prayer Tour (Summer 2008), headline the sold out Facedown Fest in Pomona, CA (2008-2009), and headline Cornerstone Festival's Underground Stage (2008-2009).  Amongst the underground swell of hype the band released 2009′s "Sons of Thunder" and continues to be resolute in their goal to reach as many people as possible with their message of repentance.
RINGTONES