Recent Release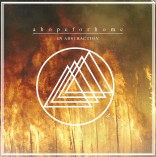 Older Releases
A Hope for Home "
Realis
" (CD)
About A Hope for Home
A Hope For Home, known for their richly woven musical textures, deftly combine electronic beats with live drums and metal-influenced guitars with the warmth of synthesizers. The band signed with Facedown Records in November 2009 after releasing The Everlasting Man, a concept based off of G.K. Chesterton's novel of the same name, on Strike First Records. Shortly after signing to the label, AHFH released Realis in 2010 on Facedown Records. Realis is a dark contemplative concept album that the band used to address the idea that it's "unrealistic to paint the picture that everything is good all the time."
In 2011 came In Abstraction, the band's most rich and dynamic execution of post-rock. With this atmospheric masterpiece it was clear that AHFH had evolved and matured in their songwriting and musicianship. Their growth and change at every stage of their career serves as a reminder that underground music can still be inspirational.